We are days away from December so I feel like I can mention some of my plans for Christmas this year.  First off, I am going to make this.
 (via Real Simple)
I'm not very ambitious when it comes to crafting and projects and such.  I'm really lazy and never end up finishing them and then feel like a hopeless fool.  But I've got these kiddies now, which makes the holidays more special plus I like pretty things so I figure I can give this a go.  I also like that it's earthy and natural--I love pine cones--- and seemingly easy to make (I have no idea if this is true.  There are no directions for how to make it but how hard can it be?).  I got in the spirit over Thanksgiving and went out with my minions and collected these from my in-laws' property.
So that's that. I wouldn't mind making something like this too.  It's really cute and could be used for years to come. I'd probably do it on a much smaller scale though.
(cannot find the original source for this)
I also just had the wonderful idea to make my kids' ornaments this year.  I get them one every year so when they go out on their own (never!), they'll have a starter set for their first xmas tree.  My mom did that for all of her kids.  I looked all over pinterest and couldn't find any handmade ideas that I liked.  Mostly they were pretty tacky.  I'm picturing something simple with fimo clay.  I'll get back to you on that one.  But I bought these cuties last year from here (not currently available but it is still only November).
(via Hummingbird Factory on etsy)
And the year before, I bought these from here (also not available at the moment).  These are my favorite.
(via Olive Handmade on etsy)
I also hope to do a little baking this year.  I don't want to go overboard a. because I'm lazy and b. because I already gained the Thanksgiving 5 (catchy...I think I made it up) and I really don't even like Thanksgiving food.  But one thing I always make is this toffee.  It's superb.  I have no problem putting down a whole batch.  In fact, I don't think anyone besides me eats it so I'm not exaggerating.  I don't usually add the almonds but I might use some this year.  One year back when I was in the food biz, I was catering a party for a friend that loves toffee.  It took me something like five ($$) tries to get it to take.  It seems like the stars have to be aligned with toffee sometimes.  I think I remember deciding it was because it was a rainy day...seriously I was desperate for an answer to this butter and sugar massacre.  Last year I had no problem whatsoever.   Not to scare anyone away.  That doesn't usually happen.  I'll probably make these too. They're tres unique little faux-ice cream dealies.  My husband loves them.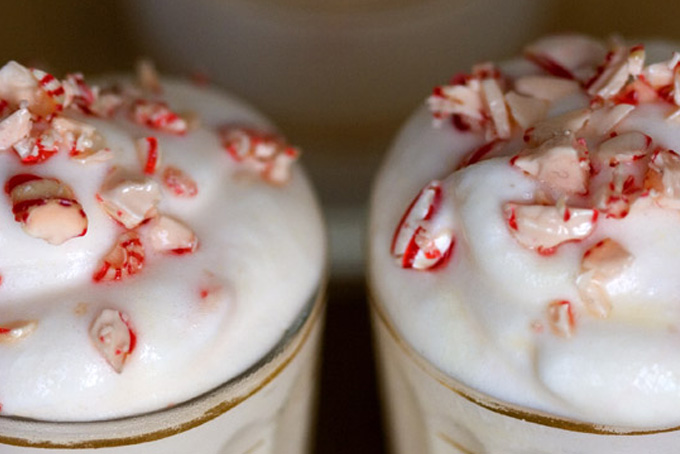 (via 101cookbooks.com)
Hm, I definitely need one more sweet.  Any ideas?
And I simply have to wrap one present in something like this.  Is that a giant box or tiny pom poms?  And frankly, that looks like a wadded up paper towel, but it works.  It really does.  So cute!
And lastly, but MOST importantly, I'm planning a quick sale coming up here early in December so be on the lookout.  You can check my Facebook page or subscribe to our mailing list for notifications on the main page.  I don't do a lot of blasts so you won't receive tons of emails from me.  In fact I haven't even done one yet but I have one planned for next week.
Oh, and you might want to check out my Pinterest page.  And I'm back on Twitter.  One.  Last.  Shot.