Have I mentioned I'm not very good at making decisions? Especially expensive decisions. In fact, maybe only expensive decisions. I have been trying to figure out what to do with my windows for well over a year. We have terrible IKEA curtains with a super cheap IKEA rod in many of the windows in our house. Not only are they just generally unattractive, but they all have rust stains on them: a few years ago, we got our radiators dipped (ie, got the paint removed from them) and afterward, my husband had a nightmare of a time getting them all hooked back up properly and there was often rusty water spewing from the valves hence the curtain sitch.
my IKEA curtains are often seen in photo shoots all tied up--they look better here than in real life
So I'm in the market for new ones for the downstairs (2 in the living room and 2 directly behind it in the dining room so I'd like them the same) and with our upcoming renovation, now is the time particularly because we'll have a new door in the back with a full-length window which I won't be able to handle not being covered up. The contractor recommended the built-in blind which I can't do. I get that it's really functional but it's a little unattractive in my opinion. So here are my current options:
1. 2" metal / wood blind with cloth tape. Call me crazy, but I really like this blind in an old-timey sort of way. I'm not normally drawn to blinds and if you offered me a 1" blind, I'd kick you in the shins. It's just not the same look. The cloth tape is also crucial to the look I'm after. That said, it's probably not quite what I want for the living room after some thinking BUT I think I'd love them in the bedrooms. There is some flexibility on the material--not sure which I like more---wood or metal. I initially wasn't picturing wood, but this is kind of cool looking, no? I don't think either of these are exactly what I'd get (probably a white with a bright color or black tape), but it gives you an idea. I don't like the valance on the bottom one though. No valances for me.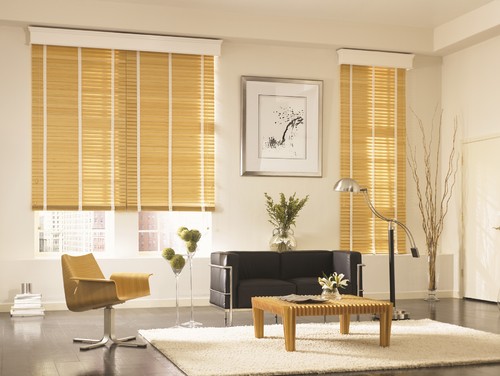 These are more up my alley I think. They are wood but the white distracts from that.
The Shade Store / I probably wouldn't ever get the pink tape but I find it just lovely
The Shade Store / I'd probably end up with something like this (this is black, but navy would be good too)
2. This is what I originally planned. In fact, I have something similar in my dining room right now but it's the super cheap, though surprisingly well-functioning Home Depot version (see below). I got them as a test to see if they're what I really want. I still like them but there are a couple things holding me back. The ones from Smith + Noble are wildly expensive though but they often have sales (like right now) which, after the price reduction, still puts them in the 'quite expensive' category. The other thing is, my house is a little brown/orange/rattany at the moment. I have a very large jute rug in my living room, a caramel colored couch (that will not be that color forever but for a while anyway), a huge wicker basket to hold my blankets (which is supposed to be for sale--whoops!) and wood floors with an orange tone. Because of all the other brown (and orange) I have going on, I'm not sure if these are the right fit anymore. The one thing that will change for the whiter is that the dining room will no longer be brown. It's going to be bright white so that will help with the brown situation.
what we have now--the window on the right will be a door
Smith + Noble / What I'd get if it weren't for the fact that the place is already rattan central.
3. And finally, a simple roller shade. It's almost risk-free and will brighten the space up. This is the most basic I could find. The price is right for sure---around $60 each.
But then I found myself back at the Shade Store and that opened up a whole world of other options that I am exploring. These are what I narrowed it down to...
The Shade Store / You can't really tell in the photo, but this is a fiber-textured white. I like that.
The Shade Store / Ok, this is way too bold for this lady, but if I were braver, I'd do it. I think it would look gorgeous in a modern, bright white room. I often think of myself as not drawn to flowery prints but with the right style and colors, there are definitely many exceptions. This is one of them.
What to do? Thoughts? I'm leaning toward the modern Shade Store white.